7 Nights Norwegian Fjords With Costa Favolosa (FLY&CRUISE) 2018
Cruise Line
Costa Cruises
Departure Port
Copenhagen , Denmark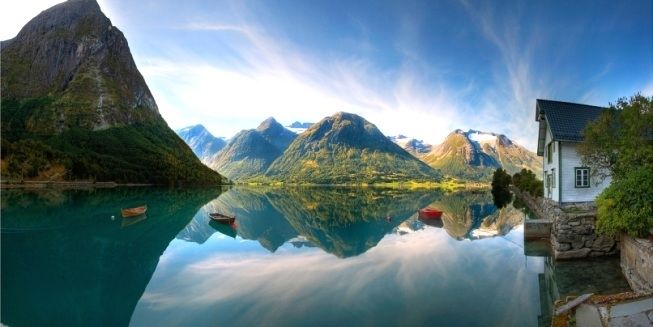 Date
Port Name
Departure Time
Arrival Time
02 June 2018 Saturday
Copenhagen , Denmark
17.30
| | |
| --- | --- |
| | Scandinavia's largest city is a treasure trove of art, history, architecture and modern design. Copenhagen artfully mixes fairy-tale settings like palaces, castles and elegant gardens with cutting-edge style and contemporary chic. |
03 June 2018 Sunday
At Sea
This is the time to personalize your cruise experience

—y

ou can participate in any or all the activities scheduled onboard or do nothing more strenuous than lift an umbrella drink while reading a book poolside.





04 June 2018 Monday
Hellesytl & Geiranger
18.00
08.00
| | |
| --- | --- |
| | Considered the most beautiful in Norway, the Geirangerfjord astonishes with its power and beauty. There are various way to experience this natural wonder: hiking, kayaking, biking or enjoying the views from a high mountain summit. |
05 June 2018 Tuesday
Bergen
18.00
08.00
Beautiful Bergen, Norway's second-largest city, is one of the most popular ports of call on a cruise up the fjords. Step off the ship into the medieval Bryggen wharf area, a UNESCO World Heritage Site since 1979, where small boats line the harbor and wooden gabled buildings stand proud along the waterfront. Bergen's rich maritime tradition goes back nearly 1,000 years, including the years the town played an important part in the Hanseatic League, the trading empire that dominated maritime commerce in the region between the 14th and 18th centuries. The city is one of Europe's oldest settlements, and its cobblestone streets and narrow alleyways lead to emerald-green parks, medieval cathedrals and stone fortresses that kept enemies at bay centuries ago. It's also eminently walkable, with historic buildings and excellent markets selling everything from fish and produce to trinkets and souvenirs.

Surrounded by mountains and thick forest, and sitting halfway between Geiranger to the north and Stavanger to the south, Bergen offers plenty to do outside the city too. Whether you sign up for a guided excursion or venture out on your own, you'll be sure to fall in love with Bergen.


06 June 2018 Wednesday
Kristiansand, Norway
19.00
13.00
| | |
| --- | --- |
| | The historic center of Kristiansand, founded in 1641, is known for its neat grid design, set of original wooden houses and an annual music festival. A boat ride is a great way to see the surrounding area, including quaint fishing villages. |
07 June 2018 Thursday
Aarhus, Denmark
18.00
09.00
It's easy to assume that Aarhus stands in Copenhagen's shadow - Aarhus after all is the second largest city in Denmark but despite this fact, it only has close to 260.000 inhabitants, compared to the 600.000 of Copenhagen. Århus university is both the country's second oldest and second largest. Being recognized as the student´s city in Denmark it gives it a youthful vibe. Yet Aarhus boasts a traditional and relaxed feeling at the same time, as the city has kept in many of its areas the unique Danish buildings, combined with some of the most modern and fine new Danish designs. Early Archeological findings date Århus´s founding in 770. Famous internationally for its extensive cultural scene; you can find some of the best Museums in Denmark. It is also rich in parks and green areas. Located on Jutland's east coast, Aarhus is surrounded by dense forests, and provides easy access to Denmark's scenic Lake District west of the city and it also holds the queen's summer residence beautifully set at the rim of the forest overlooking the sea.

Originally constructed in the 12th century, Aarhus's Domkirke is one of the greatest cathedrals in Scandinavia. Its immense copper spire stands over 300 feet high, making it - ironically - the second tallest bell tower in Northern Europe.


08 June 2018 Friday
Berlin, Warnemünde
19.00
08.00
| | |
| --- | --- |
| | It's been more than two decades since the walls came down and Berlin became unified in many ways, including the pursuit of joy. Germany's capital city is a city that balances cosmopolitan chic with a liberal undercurrent of creativity and cool. Famous landmarks like the Brandenburg Gate and Reichstag fascinate. The elegant Bavarian Quarter amazes. |
09 June 2018 Saturday
Copenhagen , Denmark
08.30
| | |
| --- | --- |
| | Scandinavia's largest city is a treasure trove of art, history, architecture and modern design. Copenhagen artfully mixes fairy-tale settings like palaces, castles and elegant gardens with cutting-edge style and contemporary chic. |